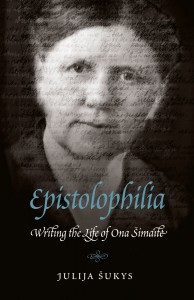 The day before yesterday I received a note from my publisher saying that copies of my book had arrived in the warehouse, and that I could begin announcing its publication. Though my official date of publication is March 1, 2012, the baby's come early. It's a strange and great feeling to know that my book is now ready for readers.
The process of writing and shepherding Epistolophilia through the production process has been long and sometimes difficult. The germ of the book began sprouting some twelve years ago when I first came across a collection of letters archived in Vilnius. Their author, a woman named Ona Šimaitė, had saved the lives of hundreds of Vilna Ghetto children and adults, and then had been arrested, tortured, and deported by the Gestapo.
The title of my book, Epistolophilia, means "a love of letters," "an affection for letter-writing," or "a letter-writing sickness," and it refers to Šimaitė's life-long dedication to her correspondence. She wrote on average 60 letters per month (therefore between 35,000 and 50,000 letters over her adult life), and not always with joy. The letters weighed on her. She often resented them and blamed the time-consuming correspondence for her inability to complete the memoir that many of her friends and colleagues were after her to write.
But to me her letters were utterly compelling. From the fragments I read in that first archive twelve years ago, I could tell I loved this woman, and I wanted to know more. Eventually, I raised enough money through grants and fellowships to collect the rest of her life-writing corpus, scattered as it was to archives in Israel, America, and other Lithuanian institutions. In the end, I suppose, I developed my own case of epistolophilia.
Now that the book is officially out, I should perhaps celebrate. But I've been here before, and I know that this is simply another beginning. Just as a manuscript has to be tended and cared for, so does a newly published book. And switching from an introspective and solitary way of being (that writing necessitates) to a bold, confident, and even crassly self-promoting one (that a newly published book requires) can be hard. Really hard.
Writers have fragile egos and are easily wounded. I'm no exception.
Just yesterday I sent out an email announcement to friends, acquaintances and colleagues telling them of the book's publication. I received many kind and celebratory responses. Some people reported buying the book, others had suggestions for reading venues, and even requests for interviews. But among the sixty or seventy congratulatory emails, there was a terse one, asking to be removed from my "mailing list." It was from a woman I've known for a couple of years, and someone who I genuinely thought might be interested in at least knowing about the book. I was stung. I felt stupid. I obsessed for an hour or so. But then I shook it off and moved on.
The last time around, with the publication of my first book, I did virtually no publicity to support it. I was pregnant and my newborn son beat my book by about three weeks. By the time the second "baby" (the book) arrived, I had my hands full. That said, I'm not sure I understood the importance of promotion back then, and may not have proceeded differently under alternate circumstances.
But this time, I've vowed not to abandon my book to its own devices just when it needs me most. I've vowed to be brave, bold, and even crassly self-promoting when necessary. And I won't let the odd terse email get me down. I owe at least that much to Ona Šimaitė.
So, in the spirit of supporting and nurturing my new baby, please note that you can buy the book here. Enter the code 6AS12 to receive a 20% discount. Of course, you can also purchase it through your local bookstore or preferred online retailer.
If you enjoy Epistolophilia, I hope you'll spread the word.
This post is part of a weekly series called "Countdown to Publication" on SheWrites.com, the premier social network for women writers.