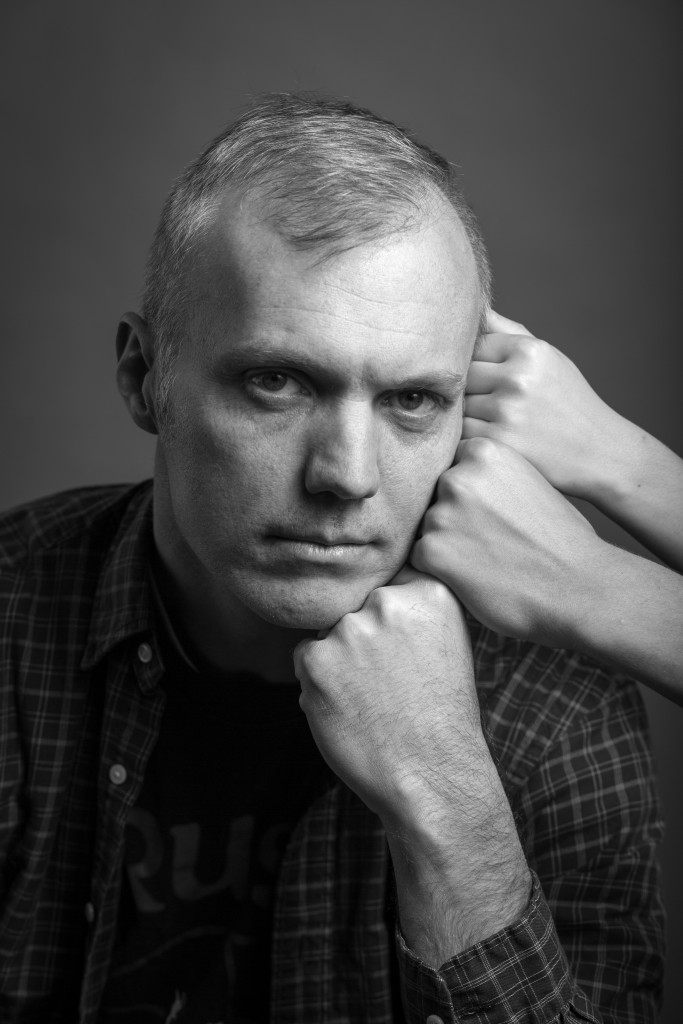 Patrick Madden, Sublime Physick. University of Nebraska Press, 2016.
Patrick Madden is the author of Sublime Physick (2016) and Quotidiana (2010), winner of Foreword Reviews and Independent Publisher book of the year awards, and finalist for the PEN Center USA Literary Award. His personal essays, nominated for four Pushcart Prizes and noted in the Best American Essays six times, have been published widely in such journals as Fourth Genre, Hotel Amerika, the Iowa Review, McSweeney's, the Normal School, River Teeth, and Southwest Review, and have been anthologized in the Best Creative Nonfiction and the Best American Spiritual Writing. With David Lazar, he co-edited After Montaigne: Contemporary Essayists Cover the Essays and now co-edits the 21st Century Essays series at Ohio State University Press. A two-time Fulbright fellow to Uruguay, he teaches at Brigham Young University and Vermont College of Fine Arts, and he curates an online anthology and essay resource at www.quotidiana.org.
About Sublime Physick: A follow-up to Patrick Madden's award-winning debut, this introspective and exuberant collection of essays is wide-ranging and wild, following bifurcating paths of thought to surprising connections. In Sublime Physick, Madden seeks what is common and ennobling among seemingly disparate, even divisive, subjects, ruminating on midlife, time, family, forgiveness, loss, originality, a Canadian rock band, and much more, discerning the ways in which the natural world (fisica) transcends and joins the realm of ideas (sublime) through the application of a meditative mind.
In twelve essays that straddle the classical and the contemporary, Madden transmutes the ruder world into a finer one, articulating with subtle humor and playfulness how science and experience abut and intersect with spirituality and everyday life.
Watch the book trailer for Sublime Physick here…in which Montaigne and Sebald get drunk together.
For teachers who'd like to adopt this book for their classes, Madden has provided a number of helpful teaching resources, including a 40-minute lecture on his writing process and writing prompts for each of the book's essays. You can find those here.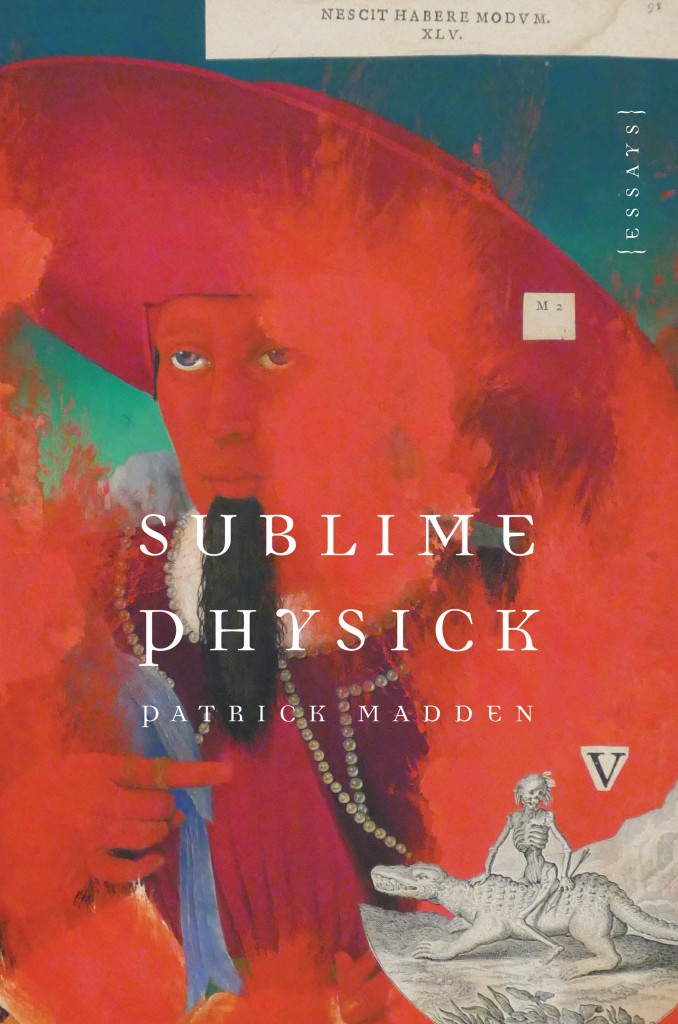 Julija Šukys: First of all, Pat, thank you for this wonderful book. It's a beautiful, melancholic text, penned, or at least published, at mid-life. We're almost the same age, you and I, so I connected to the simultaneous gaze backward to childhood, forward to aging and death, and downward to the children at our feet. Tell me a bit about the organizing principle of this book. You write that the "essays all derive, in some way, from the physical world, and all reach, always insufficiently, toward the sublime." Can you say a little bit more about this?
Patrick Madden: Thanks, Julija. I'm really glad you liked the book. I think that the middle of life (whether "midlife" or not) is a long period of relative stasis (I know I'm oversimplifying), so I hope that these essays can speak to lots of people, in the middle of life. As for the organizing principle of the book: I wanted to collect essays under a general characteristic that holds true not only for my own essays but for essays generally, and I discovered that phrase, sublime physick, while researching Amedeo Avogadro, the 19th-century Italian chemist who theorized that equal volumes of gas contained equal numbers of molecules, no matter the gases. We've since named Avogadro's number (6.02 x 1023, the number of molecules in one mole) after him. Aaanyway, I learned that he held the chair of fisica sublime at the University of Turin. I thought it was a lovely oxymoronic term, because it suggests both the concrete and the abstract, the physical and the sublime. While I realize that this department was the equivalent of our modern-day "theoretical physics" (thinking about the science of the natural world), I played with all sorts of definitions and combinations that give insight into what essays tend to do. So this book collects many essays that have science themes and metaphors (I did my bachelor's degree in physics), and they all make connections between the world of lived experiences (the concrete) and the world of ideas (the abstract), sometimes with a reach toward the spiritual (or sublime).
As you know, I had a group of students read your essay, "Spit," and the endeavor was wildly successful – my students are still talking about you. In many ways, "Spit" is a classic essay: it combines scene, research and reflection flawlessly. It's conversational and intimate yet deeply, deeply intellectual, and it vacillates in the most surprising ways between the big and the small. It appears to be about one thing (saliva!) and turns out to be about something else entirely (redemption, forgiveness, self-forgiveness). Tell me about the writing process of this essay.
I am smiling. They were a great bunch to talk with, and I'm glad the essay had a good effect on them. I hope one thing they can take from that essay is that they can write about anything, even frivolous or unappealing things, and they can write without knowing from the start where they're going or what it all means. One night as I was putting my daughters to bed. I realized that one of them was learning to whistle, another was learning to snap her fingers, and the third was learning to ride a bike, and I had a flash of memory to when I learned how to spit. I thought this was an odd thing to remember, especially because I don't usually have a good memory. So I began to write an essay about spit. It was all very superficial at first: I gathered all the memories and associations I could make with the literal act of expectorating. Of course, I knew that this would never work as an essay. I needed something significant, an idea to explore. I soon remembered what is probably the essay's climactic moment, when I returned home for a weekend during my freshman year of college and I discovered that one of my friends was now hanging out with a different crowd, doing as they did. I got upset, we argued, and in the escalation of emotions, I spat at him. Because my friend had since died, very young, I began thinking about forgiveness. Beyond that, as I was trying to get some DNA research done on my ancestry (by sending a cheek swab for analysis), I met, through email and phone, a distant relative who'd never known anybody he was genetically related to. Even though our common ancestor lived centuries ago, he was pleased to get to know me. As we shared our experiences, I learned that he'd recently gotten into some legal trouble, so that the life he'd worked so hard to build was falling apart. I began to see him as a tragic hero, undone by his fatal flaw and events beyond his control. This was a challenge to the dear notion that people can repent and change. So I wrote toward this uncomfortable question: What is repentance? How can we forgive? And so forth. I felt that this was a substantial idea at the end of an initially inane essay.
Some time ago, I was introduced at a reading as "an essayist," and immediately felt a sort of revolt inside me that said "No! I'm not an essayist…" A few seconds later, I reversed this and thought, "Hang on, maybe I am an essayist…" It's been a long road, but for what it's worth, I increasingly define myself as such. By contrast, you seem to have understood early on exactly what kind of writer you were. In "On Being Recognized," you quote Arthur Christopher Benson: "The point of the essay is not the subject, for any subject will suffice, but the charm of personality" (117). What is the point of the essay for you, Pat? Can you talk a little about your journey to the essay? Did you flirt with other genres before you settled on this one? Do you ever (as I did recently) get accused of fetishizing the essay?
"Fetishizing the essay"! I like that phrase. I've never been accused of that, but only (I suppose) because it's so obvious that I do it. People feel it's unnecessary to even make the statement about me. Of course, I deny the premise, as "fetishizing" assumes that the obsession is "excessive or irrational," and this is obviously false. In any case, I never really had any other literary goals, and though I like reading other genres, I've never seriously tried writing in them. Joseph Epstein says that essayists are all failed at other literary and artistic pursuits (e.g., Lamb the failed playwright and poet; Hazlitt the failed painter), but this is not the case for me. Unless I'm a failed physicist, I guess. Yes, maybe that's it. I came to the essay because it promised a great freedom. I had a physics degree, but already before I had graduated I felt the narrowing constraints of lifelong expertise in a very small subject area. In physics, this smallness is doubly true: each physicist's field is metaphorically small, but also a cutting-edge physicist will probably be working with subatomic particles, invisible even to microscopes, and the work tends to involve colliding accelerated particles then sifting through the computer data for years in order to get a read on what flashed into and out of existence during a nanosecond of interesting results. Aaanyway, I felt claustrophobic at the prospect of dedicating my life to this. Meanwhile, in the two years after graduation, I served a Mormon mission to Uruguay, which gave me a lot of time to think about my future. Gradually I realized that I loved to think wildly, without restraint, flitting from one subject of interest to the next as the spirit moved me. And eventually I discovered or decided that writing essays could be a way to keep my life open and free, to study what subjects inspired me for as long as they inspired me, and then move on. So I came to the essay knowingly, intentionally, and with great hopes. I think now that I was naïve, but also very lucky, so that my life has worked out to be what I had hoped for.
By the way, I don't know who introduced you as an essayist, but I feel that the title is a great compliment. Most people who would use it to describe you would do so knowingly, meaning that you're an experimenter and explorer. Continue reading "CNF Conversations: An Interview with Patrick Madden"