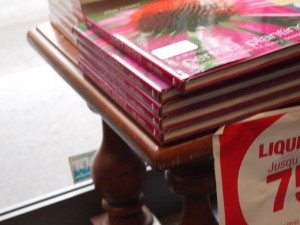 It's been an amazing few weeks: there have been fantastic reviews of my book Epistolophilia appearing from coast to coast. I've been out to British Columbia, where I gave my first real public reading at the beautiful Vancouver Public Library, and we launched the book with a splash on June 7, 2012 in Montreal. It was wonderful to see so many familiar and unfamiliar faces. Thanks to all for coming.
As the weather heats up, the literary scene begins to slow. This summer I'll be doing more intimate events, and plan to use the break to integrate virtual book club visits (via skype) into my author program. Check back for a reading guide and book club instructions soon.
But today, Sebastian and I are headed outside to tend our neglected garden. Supporting a new book takes a lot of time and effort, and the poor plants have suffered. With a bit of sweat and toil, though, we should be able to get it back in shape.
Next week, my big boy starts day camp, and I'll return to my desk in earnest.
[Photo: Sebastian Gurd]