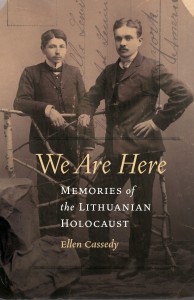 We Are Here: Memories of the Lithuanian Holocaust. University of Nebraska Press, 2012.
We Are Here: Memories of the Lithuanian Holocaust tells the story of Ellen Cassedy's personal journey into the Jewish heartland of Lithuania – the land of her Jewish forebears – and then expands into an exploration of how Lithuania today is engaging with its complex 20th-century history.  Probing the terrain of memory and moral dilemmas, the book shines a spotlight on fragile efforts toward mutual understanding and carries a cautious message of hope.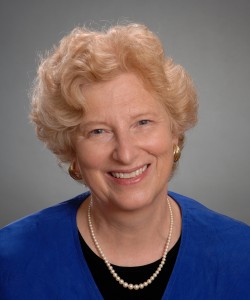 Ellen Cassedy has explored the world of the Lithuanian Holocaust for ten years.  She is a former columnist for the Philadelphia Daily News. Her articles have appeared in Huffington Post, Haaretz, Jewish Journal, Hadassah, The Jewish Forward, Jewish Telegraphic Agency, Lilith, Bridges, Utne Reader, Polin, and Shofar: An Interdisciplinary Journal of Jewish Studies. She is a frequent speaker about Jewish and Lithuanian issues, and a regular contributor to VilNews, the international web magazine based in Vilnius, Lithuania. She lives near Washington, DC.
Julija Šukys: The frame for your book is a trip to Vilnius to study Yiddish at a well-known summer program there. Tell me a little bit about your relationship to the Yiddish language. How much Yiddish did you speak or understand before arriving in Vilnius? How did your relationship to the language change over the summer? How much Yiddish did you encounter in Lithuania?
Ellen Cassedy: My mother used to sprinkle Yiddish words into conversation like a spice. At the window on a rainy day: "A pliukhe! (a downpour.)" In the kitchen: "Hand me that shisl (bowl)." On the telephone:  "The woman's a makhsheyfe (a witch)." After she died, I missed those homey syllables. I began studying Yiddish as a kind of memorial to her, a way to hold on to my Jewish heritage.
By the time I arrived at the summer program run by the Vilnius Yiddish Institute, I'd progressed far enough to be placed in the second-to-highest level – where I held on by my fingernails! Spending several hours a day in class and doing hours of homework every night was a mekhaye – a great pleasure.
Within a few weeks, I became able to conduct interviews in Yiddish – with a Holocaust survivor from my ancestral town of Rokiškis, with the leader of the Jewish community in the city of Šiauliai, where my family members had been imprisoned in the Shavl ghetto. And occasionally I'd encounter a Yiddish-speaker on the beautiful streets of the Old City in Vilnius.
The Yiddish scenes that I weave through the book serve as resting places for both me and the reader – places of laughter and love.
The central focus of this book is the Holocaust bystander. You seek to consider the role of the bystander in a nuanced way and struggle to understand what it meant to be a non-Jewish witness to the Holocaust.  In the end you arrive at a kind of reconciliation or entente in your understanding of the opposing forces and tragedies that were at play in Lithuania during World War II. Tell me a little bit about how you came to take this path.
On the brink of my journey to Lithuania, I learned there was an old man in my ancestral town who wanted to speak with a Jew before he died. In 1941, when he was 17, he watched as the Jews of the Rokiškis region were rounded up and marched off into the forest to be shot. Those memories had tormented him all his life.  He wanted to tell what he knew, and he wanted a Jew to hear his tale. Would I be that Jew?
The time I spent with this haunted witness – and with numerous other Lithuanians who shared with me their family stories of the Holocaust – showed me that "bystanders" are not an undifferentiated mass. We need to look closely enough to understand each person as an individual. And our goal must be to create the kind of society where it is easier to stand up than to stand by.
I don't think I'm giving too much away by saying that you discover that your uncle was a member of the ghetto police force in the Shavl Ghetto. The ghetto police forces were and are, of course, extremely problematic – they are both victims and oppressors. You cite Primo Levi's term "the gray zone" to describe the moral space that people like Efroyim Gens (head of the Shavl Ghetto Police) and his brother Jakob Gens (head of the Vilna Ghetto Police) inhabit. To what extent should we, from our perspective, suspend our judgment of those in the gray zone? What conclusions have you come to about people like your uncle and the Genses? Do your uncle and the Genses belong in the same category?
I don't think I'll ever stop wondering about my uncle and the complex truths he embodies. I'm less interested than I used to be in assigning people to one category or another. Maybe, when it comes to people like my uncle and the Genses (who had more power than my uncle did, but still faced inhuman and impossible choices), the answers are less important than the questions we continue to ask ourselves. Maybe it's the moral attention we pay that will help to prevent future genocides.
Timothy Snyder's book Bloodlands caused a firestorm when it appeared in 2010, because some historians and other readers considered that he equated Nazi crimes with Stalinist ones, thereby minimizing or excusing the former. He was accused of "Holocaust obfuscation," among other things. By contrast, you, like Snyder, seem to view Nazism and Stalinism and the ways in which those eras are remembered in Lithuania as interconnected. Wartime and postwar Lithuania itself is portrayed in your book as a kind of gray zone. Is this a fair characterization of your position? Could you expand?
I learned a great deal from Bloodlands, and I recommend it to anyone interested in the cataclysms of the 20th century. To examine both Nazi and Stalinist crimes, to explore the connections – that's a basic job for a historian.
The term "gray zone" doesn't mean we turn away from morality. When we see things going wrong, we must speak up loud and clear. Bloodlands can help us do that.
In Lithuania, it was hard for me to open up to "the Other," to hold in my head the reality of non-Jewish suffering alongside Jewish suffering. Hard – but essential, especially for those of us in the successor generations. Can we honor our diverse heritages without perpetuating the fears and hatreds of the past? Can we appeal to one another not as victims, bystanders, or collaborators, but as fellow beings with the capacity for moral choice? Those are the questions I hope my readers will ask themselves.
My final question is about the Lithuanian language and the ways in which you had to use mediators to "access" Lithuanian narratives and memories of the Holocaust. With the exception of Yiddish speakers, you interviewed most of your Lithuanian contacts in English or through translators, and employed third-party intervention to collect and work through archival sources. What risks does working through mediators in this way bring with it? How do you account for or deal with what necessarily gets lost, censored or simplified in translation?
By the time I left Lithuania, I had a Lithuanian vocabulary of about 60 words – pitiful!  I don't know Russian, German, or Hebrew, either –all of which came into play in the writing of my book. But I've always been intrigued by what happens when people from different cultures, using different languages, make the effort to communicate. My experiences with translators and interpreters turned out to be utterly fascinating encounters in themselves. I make sure the reader gets to meet Regina, Hirsh, Emil, Natasha, and others who helped me make sense of what I was seeing and hearing.
When you think about it, aren't we always mediating, always translating – no matter who we're talking to, no matter what languages are involved? Reaching out and attempting to understand, even when it's a challenge – in the end, that's exactly what We Are Here is about.