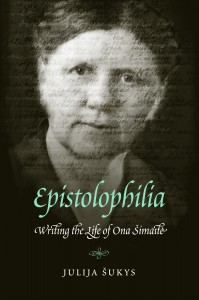 My new book, Epistolophilia: Writing the Life of Ona Šimaitė (cover seen above) will appear in four months.
A few nights ago, I had a great conversation with my press's publicist. Cara told me how she sat down on the couch to leaf through my book and was so drawn in that she ended up reading the whole thing in a matter of days.
Now, if you're a writer, you'll know how great it is to hear anyone say this. To hear it from the person who is tasked with promoting your work — in my case, a book that took me about a decade to complete — is like salve to the soul.
The publicist and I agreed to take a collaborative approach to promoting Epistolophilia. She and one other person are responsible for the University of Nebraska's entire list, so the publicity department is stretched thin. Cara will therefore take care of getting the book to reviewers, talking it up, and submitting it for prizes; I will research and set up readings and lectures. Once I've got gigs lined up, she'll step in to support me with books for sale and signing, posters, leaflets and the like.
Knocking cold on people's doors and asking them to give you and your book a chance can be humiliating. I'm learning this, but trying not to let the process get me down. Having studied how writer-friends of mine have gotten their books noticed, I'm now doing my best to emulate their processes in a way that makes sense for Epistolophilia.
More than anything, I'm trying to be brave.
Lucky for me, I've made friends over the years of researching and writing this book, and have great supporters at libraries and cultural institutions that serve my readership. These are the doors I knocked on first, and I haven't been disappointed.
Slowly, but surely this do-it-myself book tour is starting to take shape. It will start with a spring launch at Paragraphe Bookstore in Montreal, and then carry on through the fall with appearances at the Library of Congress, the Woodrow Wilson International Center for Scholars (Washington DC), and the YIVO Institute for Jewish Research in New York City.
I'll keep you posted as to appearances and interviews as things progress.
Update: There's now a tentative Toronto date as well. Details to follow, closer to the event.
If you'd like me to come to your town, library, university, bookstore or other venue to read or talk about the life and writing of the Holocaust rescuer, Ona Šimaitė, write me a note via the Contact page!
Click here for a description of the book.
Wish me luck!
As always: happy writing; happy reading.
This post is part of a weekly series called "Countdown to Publication" on SheWrites.com, the premier social network for women writers.