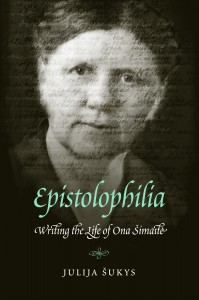 I'm so happy to announce that Epistolophilia has won the 2013 Helen and Stan Vine Canadian Jewish Book Award for Holocaust Literature. 
Here's the jury citiation:
HOLOCAUST LITERATURE

Epistolophilia: Writing the Life of Ona Šimaitė

By Julija Šukys Published by University of Nebraska Press

Epistolophilia presents a new type of reading of Holocaust texts. Julija Šukys, a young Montreal-based scholar, tells the story of a genuine heroine of the Holocaust recognized by Yad Vashem as Righteous. Time and again Ona Šimaitė would slip into the Vilna ghetto to bring in food, clothes, medicine, money, and counterfeit documents and leave with letters, manuscripts, and even sedated children swathed in sacks. In 1944 she was captured by the Gestapo, tortured, and deported to Dachau.

Julija Šukys sifted through mounds of letters and diaries to paint a portrait of a remarkable life. Šukys injects herself into the book, writing about her more than eight year journey researching and writing the book, discovering Šimaitė and the emotional connection that comes through a link to the past.
The official reception and awards ceremony:

Thursday, June 6, 8 PM | FREE
The Bram and Bluma Appel Salon
at the Toronto Reference Library
789 Yonge St., Toronto