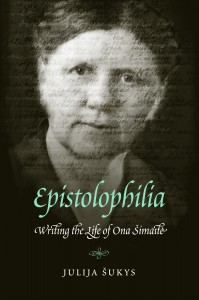 The insightful and generous writer Antanas Sileika offers his read of two new books about Jewish Lithuania published by the University of Nebraska Press. One is mine, Epistolophilia: Writing the Life of Ona Šimaitė. The other is Ellen Cassedy's We Are Here: Memories of the Lithuanian Holocaust. Sileika is an accomplished writer, with four books under his belt. His most recent title, Underground, tells the story of the anti-Soviet Lithuanian partisan war that raged for a decade after the end of World War II. It's a fine, character-driven book that made me want to try my hand at fiction. Perhaps book #4.
Of Epistolophilia, Sileika writes:
If the life of Simaite is incredible in itself, the writing in this book is exceptional as well. I first found chapters of it published in the Baltic journal, Lituanus, and was so taken by the quality and intelligence of the prose that I looked up the author to find out when the biography was coming out, and have been waiting expectantly ever since.

My own enthusiasm is echoed in Publisher's Weekly, which gave the book a coveted starred review.
Of Cassedy's book:
What's so satisfying about this book is that it declines to argue from a fixed position. If I can polarize the extremes of the discussions on the Holocaust in Lithuania (discussions, often heated, that I have had in Vilnius streets, bars, and restaurants), on the one hand I hear accusation against Lithuania as a criminal nation which refuses to acknowledge fully the crimes of its people in the Holocaust and to compensate justly, insofar as possible, those who suffered at the hands of Lithuanian murderers. On the other hand, the argument goes that nobody knows about Lithuania and what it went through in the Soviet period and Stalin's crimes were as great as those of Hitler (the double genocide debate, which remains a fiery topic).