*
Susan Olding's first book, Pathologies: A Life in Essays, won the Creative Nonfiction Collective's Readers' Choice Award, and was nominated for the BC National Award for Canadian Nonfiction. Her essays, fiction, and poetry have appeared widely in Canada and the United States, and she is the recipient of several prizes and awards, including the Edna Award from The New Quarterly, the Brenda Ueland Prize for Literary Nonfiction, and the Prairie Fire Creative Nonfiction Contest. She lives with her family in Kingston, Ontario, where she's currently working on a novel and a second book of essays.
In these fifteen searingly honest personal essays, Susan Olding takes us on an unforgettable journey into the complex heart of being human. Each essay dissects an aspect of Olding's life experience—from her vexed relationship with her father to her tricky dealings with her female peers; from her work as a counsellor and teacher to her persistent desire, despite struggles with infertility, to have children of her own. In a suite of essays forming the emotional climax of the book, Olding bravely recounts the adoption of her daughter, Maia, from an orphanage in China, and tells us the story of Maia's difficult adaptation to the unfamiliar state of being loved.
Written with as much lyricism, detail, and artfulness as the best short stories, the essays in Pathologies provide all the pleasures of fiction combined with the enrichment derived from the careful presentation of fact.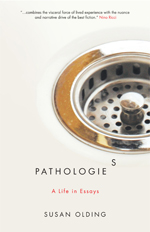 Julija Šukys: Pathologies spans the greater part of your life. We read about your childhood and adolescence, a difficult relationship with your parents, and then the narrative settles into the subjects of mothering and writing. It feels like a life's work. Is that so?
Susan Olding: It often felt like a life's work. It took me about a decade to write it! But I hope I have a few more years—and more books—before I die.
I'm not a quick writer, and essays tend to demand steeping time. It's enormously frustrating at times.
You take the title from your father's profession. In the epigraph to the book you give two different meanings for the word: one has to do with the study and diagnosis of illness; the other (more surprising) is pathology as the study of passions and emotions. The word "pathology" contains within it the root "logos" (word). I wonder if you could tell me a little bit about the links you see between a love for words, illness, and passion.
My love of words is an infectious passion? Well…I hope it's infectious, at any rate!
Talk a little about the process of how the book came about.
The idea for the book came in a flash of intuition. I work at the Queen's University Writing Centre. In one of the tutoring rooms there used to be an old copy of the OED. Waiting for a student to appear for her appointment one day, I opened the dictionary on a whim to the definitions you mention above. The metaphorical possibilities immediately struck me, and the idea for the book was born. I would put my own life and experiences under the microscope, as it were, to discover what might result from that experiment.
I had already written the first two essays. The rest came afterwards. But because it took so long to write, and because the essays are tied to life events, by the end I had included pieces that I literally could not have imagined at the project's start. I also cast aside some of my initial ideas. So ultimately the process felt quite organic.
I later learned that this is how Montaigne's work came together. It accreted. When he began his project, he knew only that he would use himself as subject, would question himself, would "roll about" in himself. But he didn't know what shape his thoughts would take until he was finished writing.
By the end, he had invented a new form. I didn't invent; I'm his lucky inheritor. But it often felt as if I were inventing, because initially, I didn't have many contemporary models, especially in Canada. I had read and loved Virginia Woolf's essays, and Orwell's, and many other classics of the genre. But I hadn't thought of them as essays, per se—I was just reading anything and everything by authors that I loved, which is what I tended to do back then.
I'd also read, and loved, the work of some contemporary American practitioners of the form—Richard Rodriguez, Adrienne Rich, Gretel Erlich, Joan Didion, Annie Dillard, Alice Walker. And I'd loved Berger, and Benjamin, and Camus. But when I started to send out my own work, nobody in Canada seemed to be publishing literary essays. Not by unknown writers, at any rate. Since then, there's been an explosion of creative nonfiction in the literary journals. But in the late 90s, the only place I could think to send my work in Canada was Event, during their annual nonfiction contest. I was lucky enough to be chosen a winner of one of those contests, for the first piece in the book, "Pathology," and that gave me the encouragement I needed to continue.
There's an anxiety that I felt traced through the book almost from the very beginning: namely, the right to write. It's a question that I too struggle with. Indeed, perhaps anyone who writes about real people, especially loved ones, must grapple with a fear of exploitation or overstepping boundaries. At one point you ask if writing lives is "a gift or a lie," and about the danger of "flattening" characters in nonfiction. I'm interested to know more about these ideas.
In some sense I had to write my way into permission to write. And that was a slow and painstaking process.
One barrier was the fear that writing itself was self-indulgent. Shouldn't I be doing more important and socially useful things? And writing about myself, which for some peculiar reason I seemed to need to do, seemed even more self-indulgent.
The title of Alice Munro's Who Do You Think You Are? lodged in my brain. Pathologies is my answer, I guess. Writing it has banished that voice, the one that told me I had no right to write at all.
For I discovered something in the process: it's impossible to write well about anything, including and perhaps especially about the self, without humility. Anyone who aspires to art writes in the service of the work, not the self. So writing well is the best defence.
As for the second issue—the fear of flattening or misrepresenting or hurting or exploiting others—that arose very early in the project.  I remember when I finished the first piece, about my relationship with my dad, I showed it to two friends who happen to be sisters. One is a writer, and one a psychiatrist. The first friend read it and said, "That's a powerful piece; of course you must publish it."  The second friend read it and said, "That's a powerful piece; of course you can't publish it."
What a perfect illustration of the different attitudes I've since encountered, both in others and within myself!
I don't think it really matters what genre we choose. People have been just as hurt by fictional portrayals as by their appearance in narrative journalism as by their appearance in memoirs and personal essays and poems. So this question should occur to every writer.
And in the end, I don't think there are any easy answers. We're social beings. Our lives intersect with others. So if we write, inevitably we include others in what we write, unless we're hermits, and even then we would probably include remembered or fantasized others.
Perhaps the most important thing we can do is to acknowledge the risks. To consider the power we hold, and what it might mean to our subjects to find themselves depicted as we have depicted them. To ask ourselves how we might feel, to find ourselves depicted that way—although that's tricky, because I think as writers we're generally sensitive to point of view and to shifting or layered narrative perspectives that might not be apparent to more naïve readers.
In the case of memoir, I think we also need to consider the truth. Naturally, there will be differences in how different people perceive and remember a situation, but if you claim that your mother regularly beat you when in fact she was meeker than a lamb and never raised so much as an apron string, that's a breach of your reader's trust as well as your mother's. An extreme and easy example—but in the last few years, we've seen far wilder claims—and they give memoir a bad name.
But here's the wrinkle: It's entirely possible for someone to experience a meek mother as a monster. And that is humanly interesting. But the story isn't about the monster mother, or even about that it is like to have a monster mother. The story is about how it is possible to experience a meek parent as a monster. It should be an exploration, not a melodrama.
The thing is…explorations are never simple. And people are sometimes threatened by complex stories. They want the simple version. The simple version is familiar.
Not only are we threatened by complicated stories, but we also struggle to express them. It's much easier to tell (and sell) a beginning-middle-and-happily-ever-after narrative about How I Lived with My Monster Mother than it is to tell the story of your evolving feelings and your changing perceptions of your fairly ordinary mother, who turns out not to have been quite the monster that you initially thought.
But it's literature's responsibility and privilege and glory to tell these complicated stories and to explore messy truths—the kind that many of us run away from in our day-to-day lives. And ideally, in order to prevent simple narratives from driving out complex narratives, we need to find ways to incorporate our own self-doubts and confusions into the work. The essay is a perfect form for that.
One of the most instructive aspects of this book for me was the story of your daughter's adoption. This was an international adoption, and you describe travelling to China to meet your child for the first time. But because this book spans such a large segment of your life, the story doesn't end there. Instead, we follow you and Maia for several years as you struggle and work through the reverberations of what it means to have started life in the way that your daughter did (you describe the neglect and abandonment she was subjected to in the first ten months of life). Perhaps you could talk about the decision (if that's what it was) to present Maia's arrival into your life not simply as a happy ending, but, I suppose as a new chapter.
I like that phrase, "a new chapter."
And you're right, I did make a decision not to stop at the "happy ending" of adoption. This goes back to my answer to your earlier question. Having lived for a few years with our daughter, I felt the dominant narratives about adoption were overly simple. (Perhaps this applies to all parenting narratives, to some degree, especially narratives about the early years of parenthood.)
Anyway, I didn't see our family or families like us represented in anything I read in the media or in the children's books or even in the novels I had seen up until then. Typically, adoption is either sentimentalized as an answer to everyone's prayers, or it is dismissed as an inferior way to form a family. I wanted to tell one story of what it is really like in all its messy wonder.
The anxiety of writing about others, and especially your daughter Maia, comes to the fore in the essay "Mama's Voices." This is such a strong piece of writing for so many reasons.
Thank you! And thanks also to Fiona Tinwei Lam, (http://fionalam.net/) who encouraged me to write this piece. She and her co-editors had already accepted a proposal for a completely different piece to be included in Double Lives: Writing and Motherhood, but when she heard the story about my experience at a writing conference, she urged me to switch tracks and write about that instead.
Click here to read Part II of the interview with Susan Olding.
[Photo: Susan Olding]