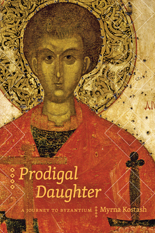 *
This is Part II of a two-part interview with Myrna Kostash about her book, Prodigal Daughter. Click here to read Part I.
Julija Šukys: You are a writer who is very rooted in Western Canada and in the Ukrainian Canadian community, and as such, there's a sense in which you write from the margins of margins (just as I do). You too write from an Eastern European tradition that largely goes ignored in this country and in the English-speaking world in general. You work in Edmonton, a place that remains on the margins of most Canadians' imaginations. You write as a Canadian, and we ourselves constitute one big margin in the English-speaking world. Finally, you write as a woman, and if the recent VIDA statistics on women and publishing are accurate, then this last fact too still makes us marginal.
What does this kind of marginal perspective bring to you as a writer? How does your gaze encounter the world differently because of your marginality? And are the margins moving to the centre at all? Do you see more space for stories like yours now than before? For example, you recently won the Writers' Trust of Canada's Matt Cohen lifetime achievement award (congratulations!). Should this award give other marginal writers and writers of nonfiction hope that our work may find a more central place in the world of reading and publishing?
Myrna Kotash: These are big questions I'm not sure I can cover here except in short-hand as it were. To begin with: the Matt Cohen prize for a life of writing came as a huge surprise. Frankly, I didn't realize anyone at the Trust (jury members are all in Ontario) had noticed that one can have a "writing life" in Edmonton. As Matt had been a friend, this award meant a lot to me. But I cannot say it's resulted in my work receiving any more attention (any less marginalized): for instance, to date, ten months after publication, Prodigal Daughter, has received only three reviews, two in Alberta and one in Winnipeg.
So as far as this book is concerned, I don't feel the least that there is "more space" for stories like mine, but it's a gamble I have to take as these are the stories I want and must write. It's no good wishing I were on the Globe's bestseller lists when I'm not willing to make concessions to being there, namely living in Toronto in the thick of things and writing about market-friendly subjects. The only one of my books that was a bestseller was my very first, All of Baba's Children, which was based on interviews with Ukrainian-Canadians in Two Hills, Alberta, of all places. To this day I cannot tell you why I chose the subject (I was still living in Toronto as a freelancer in 1975 when I returned to Alberta to do the research, and never went back to Toronto) or why it made such an impression. It's still in print, being read by a new generation. For awhile in the 1970s, being a women's liberationist or "women's libber" as feminists were called back then, was a boon for a young writer like me in Toronto when feminism was so new and provocative and creative. A number of us women writers came into our own then thanks to Canadian magazines that were trying to keep up with the movement. But that's all over and, as the VIDA survey revealed, women are again vastly underrepresented in the magazines.
My second book, about the 1960s in Canada, was an almost complete flop (lots of reviews but mostly negative) as it managed to be celebratory about left-wing radicalism just as the Reagan and Thatcher era was opening. Since then, I've written back and forth between what I call my New World and Old World subjects, all of them until Prodigal Daughter receiving the kind of attention that has disappeared from the publishing world for mid-range writers like me: the reviews, the promotion trip, media interest. Add to that the fact that nonfiction even in its literary or "creative" mode is largely neglected at festivals, conferences and writing programs, and no one should be surprised that a Ukrainian-Canadian left-wing feminist nonfiction writer is not at the epicentre of Can Lit.
Finally, I'd like to talk about the writing process of creative nonfiction. I've heard you say that the hardest thing about writing CNF is finding (or imposing) structure. In your book, you had to bring together a vast amount of historical data, competing narratives of Demetrius's life, a travel narrative, and spiritual journey. Talk a bit about your struggle to find structure in this book. Is structure always the key struggle for a writer of nonfiction? If so, why? What, in your view, makes for a successful piece of creative nonfiction?
Creative or literary nonfiction is rightly called a hybrid genre, as you pointed out at the opening of this interview. The problem of structure is central, as the various elements of this hybridity – travelogue, memoir, historical summary, reflection, scene-setting – each demands its own kind of structure. How then to unify them all within an overarching structure?
My first thought was to organize the material chronologically, that is following the historical development of St Demetrius himself, from early Christian martyr to saint in the Byzantine church to his reception among the Slavs. All the other material I had gathered from my travels, interviews, reading and note-taking would be sorted accordingly. This was my first draft. I sent this this to an editor I had worked with on Bloodlines, an editor perfectly in tune with what I try to do with nonfiction. Her suggestion was the single most important intervention into the question of structure: that I organize the material not according to (impersonal) history but according to how it had happened to me. Thus: I had first approached Demetrius from a remembered childhood memory of the Slavic Orthodox church, then I had sought him by travelling around the ancient Byzantine world in the Balkans, and finally had encountered him in his most spiritualized aspect, the young martyr whose story could not in fact be known. The next seven years of writing were simply the effort to order and reorder within that overall structure.
They also involved the arduous process of allowing myself to speak more intimately about myself than I've done since The Doomed Bridegroom. In the case of that book, my most experimental work of creative nonfiction, it was merely a question of revealing myself as an erotic subject. It was even harder to reveal myself as a seeker of the sacred within the Orthodox Church. (Somehow I think it would have been less fraught had I been on a spiritual journey with yoga, say.) I've taught writing classes in creative nonfiction for years and I always tell participants that we writers of creative nonfiction must always answer two questions before we're done. One: why am I telling you this? Two: what does it have to do with me? I've never had trouble with the first, as my subjects have always been urgent or intriguing; but the second has demanded a closer introspection than I have been prepared to undergo, until St Demetrius made me.
Myrna Kostash
Edmonton
July 3, 2011